First of all, we really didn't feel like making a completely new blog site just to be posting our Sims Legacy challenges on. We do hope to play wizard101 in the near future but it's going slow since we are both still struggling with income and me at a point in my life where I am too sick to work, but having a difficult time getting on assisted income to help me afford my medications. Here's hoping for the future though, since asthma really isn't an illness to mess with or take lightly.
I was wanting Zaolan to be posting the first post, but he kinda burned his hand last night with some boiling water so I wont be waiting on him lol. We each have our own different families, since we each have the Sims Life Stories installed on our computers. So you will be getting two completely different variations of the same story. We found a blog site that had a legacy challenge that interested us, and also freaked us out. This person plays the Sims3 now, but she used to play sims2.
Anyway, the challenge she was working on is a sims3 but we decided to try and make it a sims2/life stories version. Obviously somethings can't happen the way it might in sims3 so we make minor adjustments as needed. Then said person added in another challenge to that existing challenge to make it more interesting and less boring. Because some challenges can become boring over time if you don't have a good story line brewing in the mix.
First challenge we wanted to start with was the alphabet soup. Basically you start your Legacy family like the original way. One sim, no cheats/hacks/mods, and your sim can only marry Townies. Aging must always be on, and you can only use the elixer of life, one per sim, max. For those of you who don't know, the elixer of life is something you can buy when your sims reaches a certain amount of points, (points are gained by completing wants) that when your sim takes a drink it makes them age backwards three days.
You move your sim on to the biggest empty lot available and they must stay on this lot no matter what. You build your house around your sim. The alphabet soup part of the legacy just means that for each generation of kids you must use the next letter of the alphabet. My sims name is Alphonso. So I have to start his kids off with the letter B. Their kids will have the letter C, etc. I must at all times have the heir/heiress living on the lot with the original sim (Alphonso). I may move out his children, but I must keep the one child on the lot that I deem the heir.The legacy must continue with said heir.
This is Alphonso Tretheway
I started with this guy. I made his nose extra wide, and extra long. I made his eyes slightly larger than normal and slanted them down quite a bit. His lips are unnaturally thick, and his mouth is extremely large and wide, again unnaturally. He has grey (though don't quote me on that) eyes, and blonde curly hair. I used
random.org/dice
to roll his aspiration, astrological sign as well as his turn ons and off. Because we are not just doing the alphabet soup legacy, but also the Dilute the Ugly Gene, is why he looks the way he does.
Notice the beak, lol
Basically, I am challenged with breeding out the large beak, large mouth, and big/slanted eyes. Who ever successfully breeds out (their ugliness) first wins extra points for the challenge. It's not going to be too easy, as I have some sims with other families that have married townies with similar traits (though not this extreme) and they still have those traits popping up on kids. Then, we are throwing in the seven deadly sins challenge in the mix. For the details of that, basically each generation of kids, the chosen heir must live out their life a specific way already written out. The guidelines for the generation will be written out at the beginning of the post for the heir when that part of the story is beginning to play out.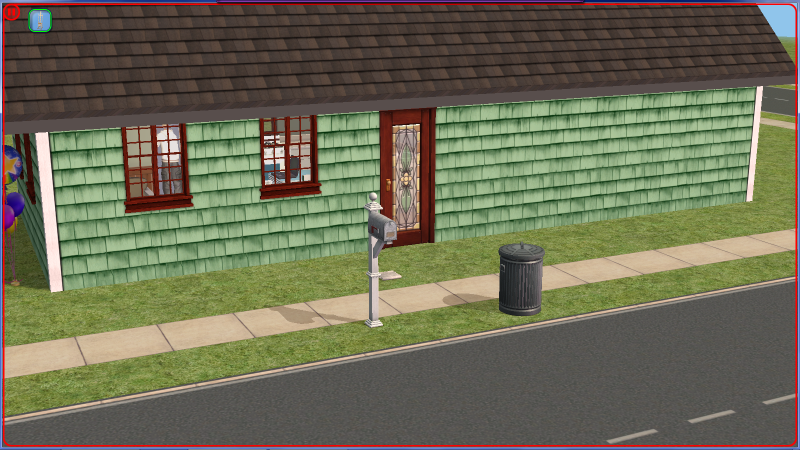 This is the small house I made for him.
However, with the basic idea of what's going to happen, it's up to us to create a story to go around and with the circumstances to come. So despite mine and Z's stories will be similar, they will probably be very different. Already we've been having very different results with our sims and I myself have only played Alf for three sim days. Here is a list of Alphonso's interests from the start of the game. Basic interests are randomized at the beginning of the sims life, but you can influence their interests by reading magazines and stuff like that.
Alf's interests:
Politics - 1/10 Money - 1/10 Environment - 8/10
Crime - 6/10 Entertainment - 1/10 Culture - 0/10
Food - 2/10 Health - 1/10 Fashion - 9/10
Sports - 9/10 Paranormal - 7/10 Travel - 9/10
Work - 8/10 Weather - 5/10 Animals - 4/10
School - 4/10 Toys - 4/10 Sci-Fi - 4/10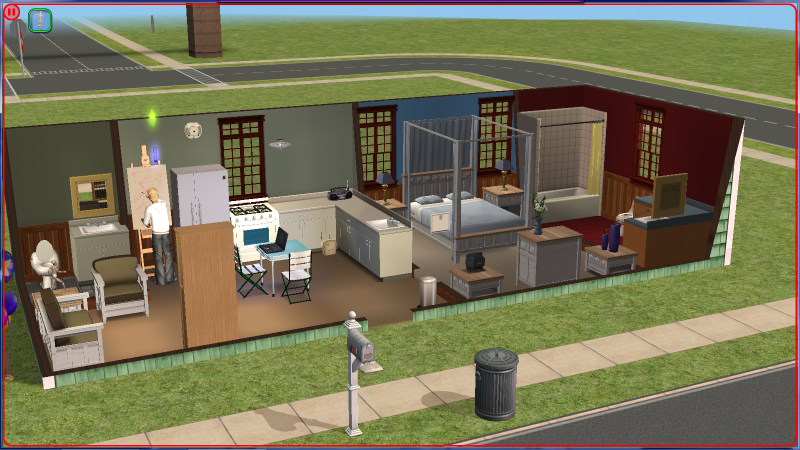 This is it from the inside.
Alf's LTW (Life Time Want) is to become a Mogul. In order to do this he needs to reach the top of the entertainment career. Currently he's working in the culinary industry because a job hasn't opened up yet in the entertainment business. I'm chalking it up to people being intimidated by his looks, so they keep turning him away. In the above picture, he is working on his creativity by painting. He wanted to paint, so he was painting. And this is where the story begins.
Having just moved in to a new town, the naturally charismatic Alphonso Tretheway painted away as his muse encouraged him to do. He moved to this new town because he really had apsirations of becoming a famous actor, but back home his parents hid him away to protect him from the gawking he's been receiving since his birth. You see, for some reason when Alf was born, he had a genetic mutation that literally caused his face to form like that of a bird. The kids taunted and teased him, calling him bird boy, and the adults around town were no better!
His parents opted to home school him, and they kept him in doors as much as possible. So growing up, his closest friends were the characters on the television set. As he grew up he began to speak about wanting to pursue such a career. His parents told him that it was silly to have such dreams that he should think about doing something from home, maybe an online business. So, he went to an online college for marketing and sales/business. His mother was a wonderful cook and she had many family recipes from generations back.
He convinced her to share the recipes with him and he started to take up cooking on the side, thinking maybe they could start a catering business. So that's what they did. For ten years he ran the website, managed the books, and helped in the kitchen. On occasion he would go with her even to deliver the foods, but that never went so well. Never forgetting his original dream of becoming an actor Alphonso had had it. He told his mother, (since his father had passed a few years prior) that he was moving out and going to try to become an actor.
She begged and pleaded with him, worried that no one would accept him because of his looks. But he didn't care. It was what he wanted to do, and he was going to at least try. Taking some of the money he had saved up, he moved out of her house and in to his own place. It was small, but it had room for anything he needed. His first day in town, after getting everything set up in his new place, in the new town a few towns from where his mother lived he decided he would go and see what they had for entertainment.
Mind if I join?
He went over to the towns bowling alley that had some pool tables. Noticing a girl playing by herself he walked over and asked if he could join her. She was just about to finish the set, only needed to hit the eight ball in the corner pocket. Naomi took one look at him and immediately walked away with out a word. (She really did, she looked at him and then just left.) Sighing, he looked around to see if he could get a bite to eat. All he sees is a Batista selling coffee. But wait, what was that?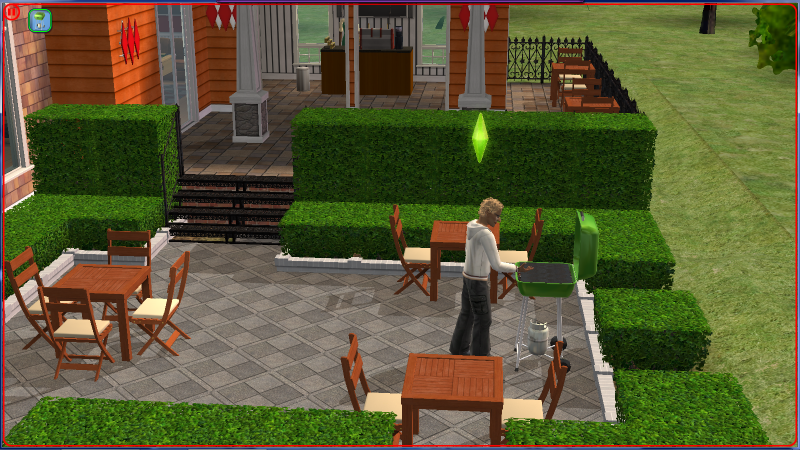 Mmm, hotdogs.
A grill. 'I'll grill me some food' he thought and headed over to cook some hotdogs. He grilled enough for anyone who wanted food, but no one came over until after he finished eating his hotdog and went back in side. He really hopes that one day people will look past his features and actually look in to his eyes and see he's a nice person, and talented too. Once he was back inside, he decided to steer clear of the pool tables and head to the lanes instead.
Mind if I join?
He asked a couple of people he saw playing. The older gentlemen wanted a rest so he went and sat down on the couch, but he couldn't help but stare at Alphonso, making him feel slightly uncomfortable. The woman was too busy taking her turn she hadn't gotten a look at Alf and so she said she didn't care if he joined. When she did get a good look at him, her first instinct was to run and scream, and the other guy actually got up and left he had been so frightened.
Oh..I forgot I have to be some where, like..now.
At least she was polite enough to give an excuse and walk away, unlike the woman who was completely rude and then the man who practically snuck away having seen his face. He was determined to stick it out and he wasn't going to hide his face any more. It was their problem, not his.
Just focus on the game.
Trying to just focus on the game, and not be bothered by the people around him who may or may not have a problem with his face he minded his own business for now. He was breaking a sweat, who knew that it took so many muscles to bowl! He's only seen people do it on television so he was more than content actually getting to play it finally. He just never realized how much work it actually was.
When did the circus come to town?
As he was minding his own business a random guy came over and bluntly asked him when the circus came in town and since when did they let their displays leave their cages? Can you believe that? Alphonso couldn't. However he was going to try and ignore this idiot but he was definitely feeling really hurt by this. He knew kids were cruel, but they were both grown men! Finishing up the set he decided maybe it was time for him to head back home.
So ugly it was a crime!
As he was leaving a woman came over to him and she made him feel so horrible about himself! He tried to hold on to the thoughts of his mother telling him that beauty was only skin deep and that beauty was in the eye of the beholder...but it was so hard to hold on to that feeling with so much negative energy about the place. He just couldn't believe what he was hearing. He thought that people would at least be polite, even if they didn't like what they saw. Boy was he wrong.